Description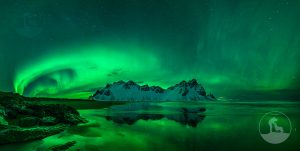 Stokksnes Aurora
Shortlisted for Astronomy Photographer of the year 2020 this is the northern lights dancing above the beautiful black sand beach of Stokksnes.  The Vestrahorn, reflected in the sands and coloured by both snow and aurora looms large as the waves roll in from the North Atlantic.  Here I waited for the waves to recede and allow a brief moment of reflections in the black sand while the northern lights danced across the Icelandic winter skies.
In the sky Ursa Major to the right and to the left Perseus, Cassiopeia and our sister galaxy Andromeda.  The Andromeda Galaxy is the most distant object visible to the naked eye that is not in our galaxy and lies 2.537 million light years away.  Around 2-3 times larger than our own Milky Way galaxy, Andromeda contains a trillion stars.   Currently our two galaxies are hurtling towards each other at 300,000 miles per hour, set to collide in around 3.4-4.5 billion years.
The beautiful aurora you can see in this picture is formed after solar storms on the surface of our sun spit particles out into space.  Some head towards us on Earth and then these charged particles hit our magnetic field and ionise creating the beautiful colours you see in this photograph.
This is a panorama made up of around 15 separate photographs stitched together to allow me to capture the full glory of the moment
This photograph can be seen in the 2020 edition of Astronomy Photographer of the Year book available from the National Maritime Museum & Royal Observatories at Greenwich, London UK
A stunning night to be in Iceland