My search for Andromeda
I thought I'd start  a little blog to talk and hopefully answer questions about photography and my love of space.  If this is something that interests you then please read on and feel free to share.  If not then I guess this may not be for you.  I aim to keep it understandable and interesting.  I may fail in both!!
ANDROMEDA
Firstly, a few facts
Andromeda, our closest galactic neighbour is still 2.537 million light years away and is the most distant object still visible to the naked eye in the night sky. Here you can see a Trillion sun's, 4 times more than in our own Milky Way galaxy.
Like our own galaxy it is a spiral galaxy and they are currently heading towards each other at 110km per second, to collide in 3.5 to 4.5 billion years. Underneath you can see M110. Another distant galaxy 2.65 million light years away and containing 10 billion stars. Also above, M32 a smaller galaxy with a mere 3 billion suns!
Years ago I took a photo of Blea Tarn at night in the snow. In the top left corner I saw an indistinct smudge that looked like a tiny galaxy. I then researched and learned that this little smudge was actually our sister galaxy, Andromeda. Now this totally blew my mind and there and then I told myself I was going to get a close up picture one day. Well this was taken the other night and to date is my best effort.
I aim to do better but I'm definitely getting there. Its been a steep learning curve but one I find fascinating. More to come, just need some more clear nights at home!
Here you can see that photo and my first ever sight of our sister galaxy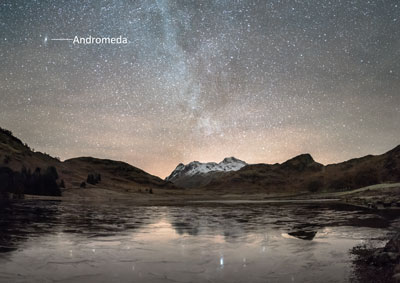 This was one of the first photographs that showed me what was possible and by using my camera I could capture the magnificence of space and the wonders within alongside the beauty I saw around me firstly in the Lake District but now much further afield (my photography has  taken me to some amazing places so far).
Ever since I have kept catching Andromeda on many of my night sky photographs which has lead me to invest both time and money into being able to capture deep space objects (DSO's).
Firstly I started with a 70-200 (Sigma) camera lens, a Nikon cropped sensor dslr (D7100) and a tracking mount (Star Adventurer).  This was amazing and a real step up in both what was possible and the complexity of trying to capture things so far away.  I've recently looked for this photo but was unable to find it unfortuntely.  Next I continued with the tracking mount but upgraded to a William Optics Redcat51, a small refractor telescope.  I had also gone to full frame so was now using a Nikon D810 too.  This meant I had some proper 'glass' to try and capture Andromeda again.  This was the result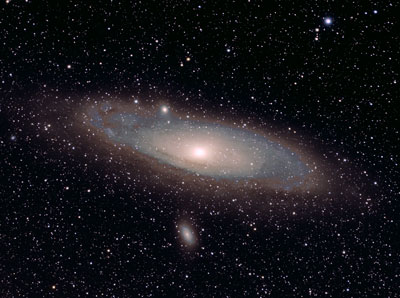 So I wasn't that happy with this.  Yes, its the best so far but the core is blown out an the detail jut wasn't there.  I think using a small wide field refractor meant I had to crop too much.  That and I did not collect enough data (exposures to be stacked) so I just had to invest and try harder!  Well photography wise things were picking up.  I'd just won the people and space category of Astronomy Photographer of the Year 2019 (https://www.rmg.co.uk/whats-on/astronomy-photographer-year/galleries/2019/overall-winners).   This was obviously an amazing and life changing experience and has really allowed me to push my photography.  I now run workshops in Skye, the Lake District, The Highlands and Iceland and also I have been able to invest in kit to capture sights such as these and teach others how to do the same.  Anyway, back to Andromeda
After the last photo it became clear new kit was needed to allow me to up my game and get the shots I am after.  This then lead me to buying a William Optics Zenithstar 81 and an equatorial mount, the Heq5 pro.   I got the scope from here: https://www.widescreen-centre.co.uk/ and the mount came from https://www.firstlightoptics.com/.   So far lockdown has been making purchasing equipment a trial and my mount has been malfunctioning so has had to be returned for repair for now.  Frustrating but that's just the way it goes sometimes.
But, even with a faulty mount, I managed to capture around 3 hours worth of data.  I then stacked this with a number of different calibration frames (dark, bias, flat) to remove vignette, banding and sensor noise and also with the Light frames (individual exposures totaling 3 hours) to remove noise and build up the data contained within the image files.   This left me with a this stacked image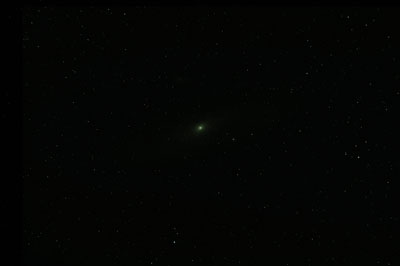 This looks like dark and nothing like I thought it would but I soon understood that this is a massive file containing a large amount of data.  The job then is to stretch and extract the data within the file to bring the beauty of what I had actually captured through.
So here, after a lot of learning, time and kit, is my best image of Andromeda to date.  Taken with the Zenithstar81 and Nikon Z7
The Andromeda Galaxy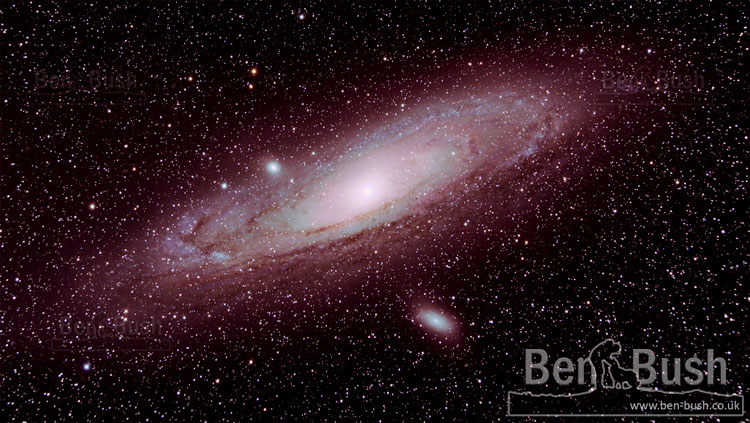 Equipment I have used to capture this image
William Optics Zenithstar 81 – A beautifully made and compact refractor telescope.  I've been very impressed by the build quality and who doesn't like anodised gold machined aluminum and amazing image quality.  Bought from The Widescreen Centre (https://www.widescreen-centre.co.uk/) who I also got my guide scope and camera from.  A company I can recommend
Sky Watcher Heq5 Pro – Tbh I wish I'd bought the Neq6 Pro as it been driving me crazy this mount.  Turns out its got a fault and has had to go back to First Light Optics but after many many nights trying to fault find and fix (without losing my warranty) it has had to go back.  So I just about managed Andromeda but many other nights have been wasted with the mount.
Nikon Z7 – I love this little mirrorless camera.  I have Dslr's sitting there I just don't use anymore now I have this.  Seems to do a good job taking deep space images too.  I'll be moving over to another camera for deep space soon but that will be mentioned in a later blog.
William Optics mini guide scope – Great piece of kit that allows me to attach a small planetary camera (zwo-asi290mm) to it to auto guide the mount which allows much longer exposures of deep space.
ZWO-ASI290mm – Brilliant little guide camera that can also be used for planetary imaging.  Amazing build quality and I'm looking forward to showing you the results from some of the larger and higher res ZWO cameras in the coming months.
Anyway, enough waffle
Ben