Iceland 2023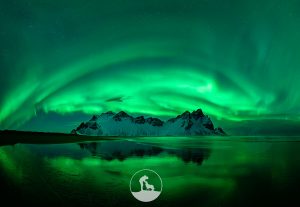 Above:  A night of aurora at the Vestrahorn
Icelandic tour/photography workshop
In these workshops I'm inviting you to travel to the amazing land of ice & fire, Iceland. The workshop is a mobile one, travelling the Southern ring road and sometimes up to the Snaefellsnes Peninsular should time and weather allow, to visit some truly amazing and beautiful locations both night & day.  The group will then spend the time completely immersed in photography and in the stunning landscape.  During the workshop we will be capturing many different conditions and locations and be concentrating on learning camera techniques, composition, use of filters and long exposure filters.  Also, we will be heading out in the night to capture the stunning landscape with a sky full of stars and all being well, some beautiful Aurora.  I will also have kit such as extra lenses (Nikon) and star tracking mounts for you to have a go at long exposures of the night sky and try techniques such as exposure stacking and star trails.
Back at the accommodation is where we get to grips with post processing your images.  I bring an editing laptop and we can sit and explore the amazing world of Lightroom and Photoshop.  Also, you will have the opportunity to sit down with me 1 on 1 to discuss your images and learn and explore different editing methods.  I will teach you the tricks and techniques to really extract the best from your images, learned over years of me experimenting and discovering what is possible.   We will also talk about how you can capture the most amazing photos from this beautiful country while we are there and discuss the locations and goals for each day.
After a long day we will always be in a place where you can grab a nice meal and maybe even a beer or a glass of wine.  I will always be keeping an eye on the weather and the skies so if the chance of aurora comes up we will be in the best location possible to see it for ourselves and also capture it on camera.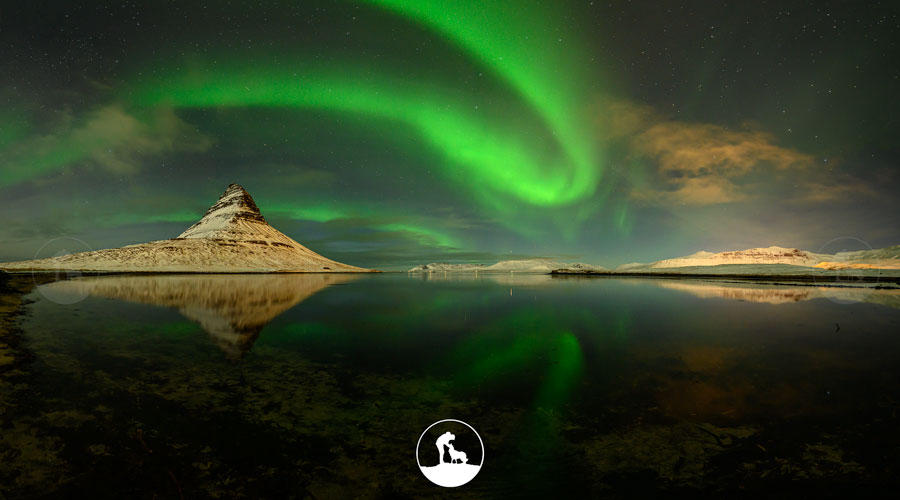 Above:  The aurora dances above the mountain of Kirkjufell on the Snaefellsnes Peninsular
What's included:
Accommodation:
On this trip we will be staying in different hotels and guest houses along our route.  We will stay a couple of nights in each location, allowing us to use this as a base to explore the landscape around us, plus be close to restaurants, shops and pubs for food and drink and facilities to make packed lunches.  Usually we will travel from west to east seeing the most beautiful sights along the way but sometimes weather can dictate a slightly different route.  You'll have the option to have a break and a rest along the way and have some free time to rest and recharge or take yourselves for dinner etc
Transport: I'll pick you up from Keflavik Airport in a car or minibus (depending on group size.  This will be our transport for the duration giving plenty of space for us, our camera gear and our luggage.  Once the workshop has finished, I will transport you back to the airport or to Reykjavik should you want to stay on and spend a few more days enjoying Iceland.  Its worth keeping an eye on what you are bringing as space it always at a premium so please try and pack as light as possible.
What's not:
Food and drink are not included in the cost.  There will be places to eat or buy food all along our route and around our accommodation.  Supermarkets and shops are also en route so you will be able to buy food for packed lunches as we may not always be close to a restaurant or café during our travels
Transport to Iceland:  You will have to make your own way to Iceland.  Included within the price is collection and drop off to Keflavik airport or Reykjavik.  Flights leave from most of the major UK airports direct to Keflavik international airport.  Often clients like to spend a few days in Reykjavik either before or after a workshop.  I'm happy to drop you off or collect you from your hotel but if not on the course dates you will have to arrange your own transport to/from the airport.  This is very easy with many options available.  Just ask and I will send these to you
Personal/kit insurance: To ensure that you have piece of mind as accidents do happen then you must arrange personal and kit insurance.  If the worst happens and you damage a camera, lose a jacket or twist your ankle then you need to be covered.   Full details of what is expected/needed from all of us can be found in the terms & conditions you will have to read and agree to before booking but you will all need full travel insurance for you and your luggage.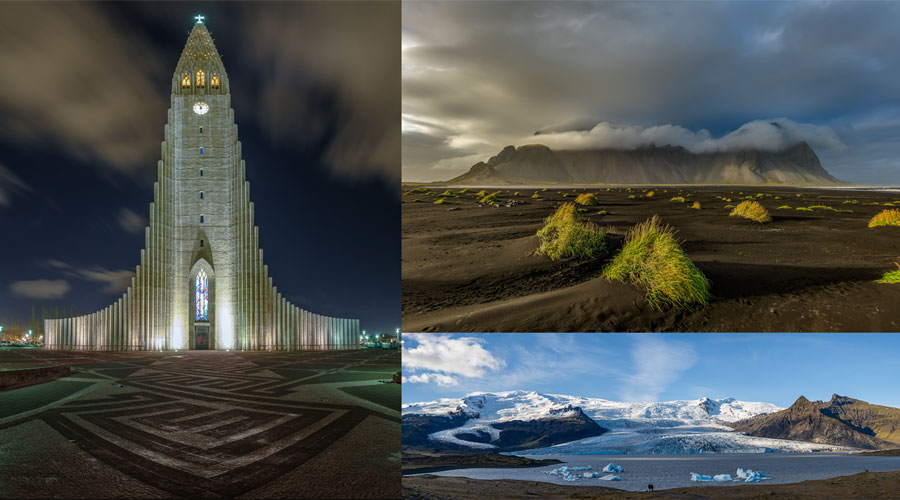 Above: Hallgrimskirkja Church, The Vestrahorn & Fjallsarlon.  All locations we aim to visit
What you must bring:
Dslr and lenses – This is a must for the workshop.  During the workshop you will be using your camera on manual and capturing the landscape so bring suitable lenses that will allow you to capture the best from Iceland.  I'm happy to advise and suggest possible lens and camera combinations and show you how to get the most from them.  Also, I'm happy to provide links to suitable lenses for landscapes or stars should you want to treat yourself in preparation for the workshop.
Interval timer/Remote – A must have for night photography and long exposures.  These can be bought cheaply off Amazon and are a brilliant addition to your camera kit.  Contact for advice on what is best for your budget and your camera.
Tripod & Head – One of the most important things to have is a good solid tripod.  There needn't cost the earth, but a good solid tripod and a decent head will last you for years.  I'm happy to send suggestions to fit your budget should you need to buy or upgrade
Camera Bag – A good camera bag is a must.  This will keep your equipment safe and protected from the weather.  I use a Lowepro Pro Tactic 450 but am happy to send links and suggestions for ones to fit you and your budget.
Warm Clothes – You must make sure you have sensible, warm and waterproof clothing and boots.  Iceland can be a wild place, especially in the winter so to get the best from your trip you need to make sure you have the correct clothing to stay dry, warm and comfortable while out and about.  Thermals, warm socks, hats and gloves are also a must.  Being out in winter in the day and standing in one place taking photos can be cold enough but being out at night is far colder.  Handwarmers are a great idea too as they can be used in your pockets, gloves and shoes and to help keep your lenses from icing up.  If you want to purchase a dew heating band for your lenses (I use a £20 one off amazon) then I can happily provide links to these.
Everything Else – Please remember to bring memory cards, batteries and chargers.  Also, if you want to bring laptops you will be able to back-up your photographs and ensure you do not lose any, if you just want to bring a HD then I can happily back all you images to it throughout the week.  If you do not have an portable hard drive or laptop then a large USB memory stick is sensible as I can make sure your images are saved and safe and ready for you to take home and practice your post processing after an exciting 5 days immersed in photography in the land of ice & fire!
17th to 23rd February  –  £2250 Per person (2 spaces left with a 20% discount to fill them)
10th to 14th March – Private tour SOLD OUT
13th – 19th October – £2250 Per Person (6 spaces)
20th – 25th October – Private tour SOLD OUT
On booking a 30% deposit is required, the rest payable 6 weeks before workshop start date.
Get in touch if you have any questions or would like to book